This series of postcards entitled "Little Workers for the Red Cross" were part of a fundraising scheme following World War One. Handwritten on the reverse of one of the cards is: "From Uncle John & Aunt Clara [To] wish Claude & Ethel [Lytton] a Happy Easter.
Lady Davidson's little daughters they collected for the Red Cross on Trafalgar day."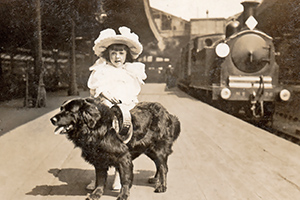 In a note from the Women's Patriotic Association War Memorial Municipal Heritage Site: "The War Memorial has further historical value due to its association with Women's Patriotic Association (WPA) in Newfoundland. In 1914, Lady Margaret Davidson, wife of the then governor of Newfoundland, established the WPA to help those fighting overseas and their families left behind. The WPA organized women's groups across the Dominion of Newfoundland to handcraft socks, mittens, scarves, clothing and bandages along with preparing medical supplies and other comforts for troops. The WPA "Visiting Committee" offered support to family members at home. A Naval and Military Convalescent Hospital was also established by the WPA in St. John's. Shortly after it was founded, over 200 WPA branches were active, with a total membership of 15 000 women. At the end of World War I, the WPA shifted its focus to child welfare, establishing milk distribution centres and a children's hospital. The WPA was dissolved in 1921 but was reestablished in 1939, at the onset of World War II, with over 400 branches. In 1948, the WPA was disbanded once again and its funds were turned over to the Red Cross."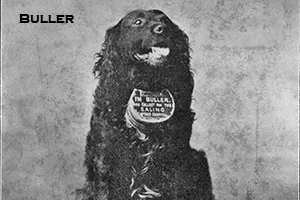 "Fundraising for good causes was hardly a new concept when war broke out in 1914, but within weeks, the British population had gone into charitable overdrive. Concerts, bazaars, flag days, theatrical matinees, concerts, exhibitions, sales, auctions and dances were all organised in order to raise money for a myriad of worthy charities, from national campaigns such as the National Relief Fund or the Red Cross, to smaller concerns like local hospitals, or homes for convalescent soldiers. Collection boxes began to appear on restaurant tables, upper class ladies prowled the streets of the West End selling flags to passer-bys and patriotic postcards were produced in their thousands with all profits going to charity.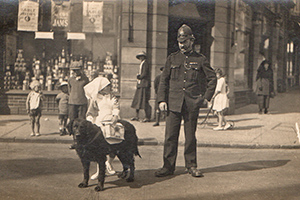 Some of the most successful fundraisers however, came in canine, rather than human form. Again, using dogs to collect money for good causes was not an original idea. Dog care and ownership had flourished during the Victorian era, a time in which there was also an upsurge in philanthropic activity. What better way to get the public to part with their hard-earned pennies and shillings than by utlising the endearing, and sometimes irresistible, draw of man's best friend? Some doggy fundraisers became celebrities, such as London Jack who raised hundreds of pounds for the London and South West Railway Servants' Orphanage (his successor, unimaginatively named London Jack II carried on #1's good works after his demise)." - - Luci Gosling, Mary Evan's Library "Picturing The Great War" 2013.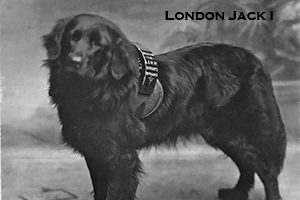 "The training of these various collecting dogs is not an easy task, and most of the dogs have been, as it were, raised in their peculiar callings. London Jack II underwent nearly a year of training under W.D. Wickens, a railway mechanic, while Southampton Jack was "brought up" by E. West, a ticket collector. All the railway collecting dogs have been trained by railwaymen, the trainers devoting their spare time to the task. The dogs must become used to the immense traffic at the great stations and learn how to keep out of the way of passengers and their baggage. A belated passenger running to catch a train could scarcely be expected to pause for a dog collector, so when these dogs see running passengers they always make themselves scarce.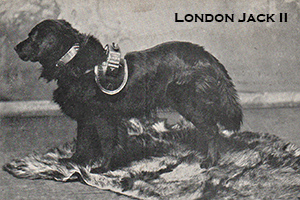 So successful have the collecting dogs been at the big London stations that many small towns throughout the country are adopting the system as a regular source of revenue for orphanages and other charitable institutions. Besides being employed at Waterloo, Paddington and most of the big London stations, collecting dogs are now at Wimbledon, Southampton, Barnstable, Andover, Woking, Bournemouth, Basingstoke, Eastleigh and other places. It is estimated that dog collectors in England annually raise for charity close on to $15,000.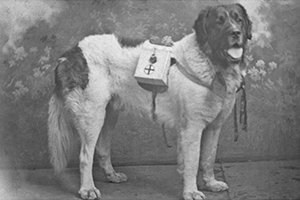 Most of the dogs plying this novel profession are Newfoundland retrievers, collie sheep dogs and Welsh collies. These breeds are said to take naturally to the "profession." This is due mainly to the fact that these special dogs have been more accustomed to "mixing in" with crowds and have become more used to man than perhaps other classes of dogs.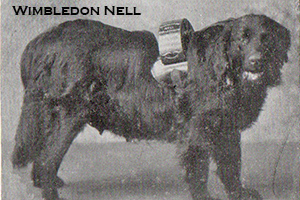 It is rather flattering to British honesty that no attempt has ever been made to tamper with the money boxes of dog collectors, even at stations frequented by the roughest elements of the population. The money boxes rest on saddles strapped around the dog's body, and there would be no great difficulty in removing the box from the animal should anyone be so inclined. The dogs jump into trains and mingle freely with passengers, but no one has ever tried to remove the boxes or extract any of the funds they contain. Perhaps the fact that these dogs are so conspicuously in "the public eye" affords them ample protection." - - Chris Woodyard "Dog Who Collect For Charity:1910" 2015.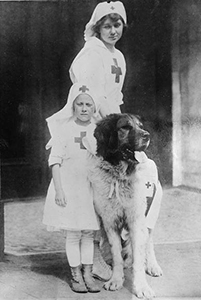 Lest anyone think that the collecting dogs were limited to the UK, this Seattle dog was hard at work collecting for the Red Cross. The notation at the Library of Congress reads: "This is the big Newfoundland dog of the Seattle Chapter and the little Junior girl whose dimpled arm was generally around the neck. The contents of the tin box upon his shaggy back sometimes amounted in a single day to upwards of $200"