Gander: A Newfoundland Hero
Based on an article that appeared in Newf Tide written by Mary Jane Spackman with contributions from Sue Miller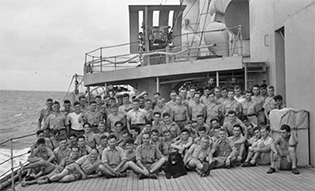 Gander became the Newfoundland mascot of Quebec City's Royal Rifles of Canada by chance. He began his life as a puppy named Pal with his family in Gander, Newfoundland. As he grew he spent more and more time at the airport with the soldiers who were assigned there. His family felt he was growing too big and the Royal Rifles willingly adopted him as their mascot. His official name became Regimental Mascot Sgt. Gander. Gander's new life with the Rifles would cover many miles and ultimately end at the battle of Lye Mun on Hong Kong Island.
During his time as their mascot, Gander proved his value more than once. There are at least three documented instances of Gander protecting the troops. The first was when a wave of attackers landed on the beach and Gander rushed at them barking and charging at their legs. The second instance occurred at night. There was a group of injured Canadians laying on the road and as a group of Japanese soldiers advanced towards them, Gander flew at them, causing them to change direction.

The last heroic act by Gander would cost him his life. A grenade was thrown towards a group of soldiers commanded by Captain Gavey. The soldiers were unable to move away from the grenade due to intense shooting from the Japanese. Gander ran forward, took the grenade in his mouth and continued away from his men. Gander was killed by the subsequent explosion but the men he served were saved by their loyal Newfoundland mascot. This last act of heroism has been memorialized for eternity by awarding Gander the Dickin Medal for "acts of conspicuous gallantry and devotion to duty in wartime." The prestigious Dickin Medal was awarded by the People's Dispensary for Sick Animals (PDSA) which is an animal veterinary charity in the United Kingdom.