reprinted from Newf Tide Spring 1981 

The recent publication of Acts of Light. a book of 80 of Emily Dickinson's poems (out of 1,775 discovered after her death) is an appreciation by Jane Langton with paintings and drawings by Nancy Ekholm Burkert. The book is the product of three years of research.

Emily Dickinson. the reclusive poet who locked herself in her room and saw only selected adult visitors, has come into her own, ninety-five years after her death, with the resurging interest in women writers. During her life, no one saw her as a poet. Victorian editors "corrected" her rhymes, her disuse of titles and her starkly original metaphors.
 
How interesting that one of her closest companions was a Newfoundland named Carlo.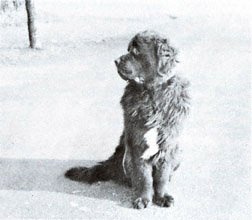 Nancy Ekholm Burkert, in her research, was referred to Bob and Jean Ouandt of Libertyville, Illinois, whose Newf, Edenglen's Brown Sugar, posed for Burkert's painting of Carlo at the foot of Emily's bed. Brown Sugar was a true artist's model, in spite of his zest for life, sitting still for two solid hours (quite a feat for even an experienced model!).

The painting is entitled "Carlo Dreams." Burkert's paintings, instead of illustrations to the poems, are a response to Emily's world seen through the poetry.

It is a credit, indeed, to the breed that a poet who so treasured her privacy chose to share it with a Newfoundland whose sensitivity probably matched her own. "
Did you find this article helpful? Share with your friends