Seaman Statue in Danger - Flooding threatens Ft. Mandan sculpture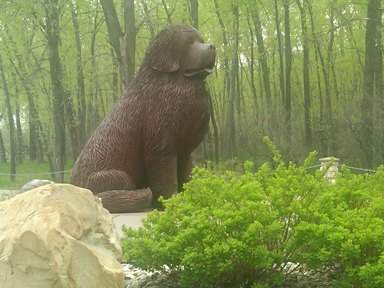 By early June, Fort Mandan – the Lewis & Clark wintering post on the banks of the Missouri River in Washburn, North Dakota – was prepared for the tens of thousands for seasonal visitors; but not prepared for the US Army Corps of Engineers warning that Fort Mandan could face complete inundation due to unprecedented flooding that threatened the Fort and Seaman's Overlook (see Newf Tide, 3rd qtr., 2006).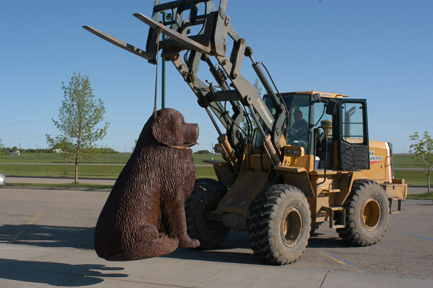 Staff and volunteers sandbagged Fort Mandan and the 1400 lb. Seaman was moved, via crane, temporarily to the Lewis & Clark Interpretive Center two miles from Fort Mandan.
The NCA has donated $1000.00 to help restore Seaman to his place at Seaman's Overlook.
Update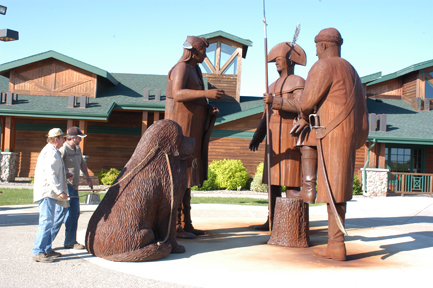 Lewis and Clark`s legacy is rich across North Dakota, even their dog Seaman gets some recognition. The Seaman statue was moved from Fort Mandan last year during the flood, but today volunteers helped to put it back in it`s rightful place.

Seaman is a very famous dog in North Dakota`s history.

"He was kind of an ambassador because when they saw that they had this dog with them, when the natives seen that they had the dog with them, it made them more comfortable with the guys. And he was a great help," said sculptor Tom Neary.

During last year`s flooding, Seaman was moved to the Lewis and Clark Interpretive Center in Washburn. But today, volunteers from Great River Energy helped move the sculpture back to Fort Mandan. READ MORE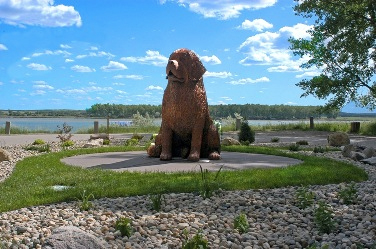 Did you find this article helpful? Share with your friends