For hundreds of years, artists have celebrated the beauty and magnificence of the Newfoundland Dog, and the storied relationship they have held with mankind. As Byron said, they possess
Beauty without Vanity,
Strength without Insolence,
Courage without Ferocity,
and all the virtues of Man without his Vices.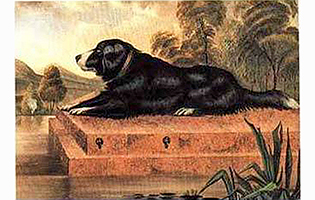 A Lakeside Repose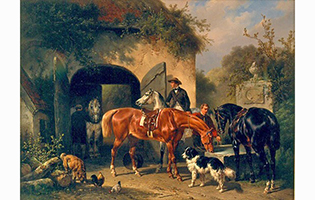 Wouterus Verschuur (1812-1874)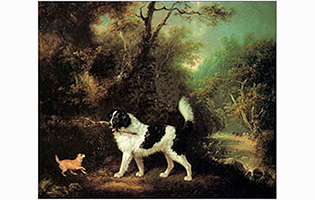 Charles Schwanfelder (1774–1837): Nelson with a Terrier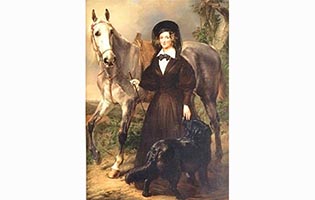 Eugéne-Joseph Verboeckhoven (1798-1881): Princess Louise- Marie d'Orleans with a horse and a black Newfoundland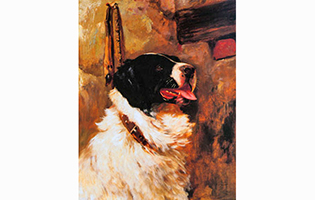 Arthur Wardle Landseer Newfoundland  Oil on canvas, 30 x 25 ins. Collection AKC, gift of Gerald Massey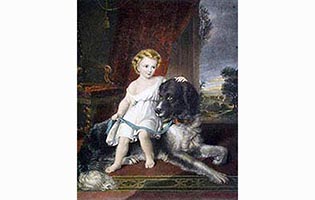 The Faithful Playmate
Samuel West
1810-1867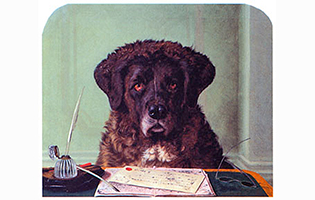 Horatio Henry Couldery (1832-1893): The President 1868 Oil on Canvas 20 x 24 inches. Collection AKC Museum, gift of Frank T. Sabella. 
"Although he became renown for his sensitive portraits of cats, Couldery was a masterful painter of dogs as well, paying close attention to expression and coat texture, as is evident in this piCture of a Newfoundland sitting behind his writing desk." William Secord, A Breed Apart - 2001.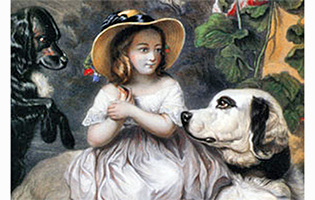 detail of painting by Alfred de Dreux  Innocence Between Two Friends Chromolithograph, Collection AKC Museum,  gift of Pamela Cole, Dornwald Kennel 
"De Dreux was influenced by English painters, especially Landseer, and some of his works reflect the Victorian fascination with children and dogs. The Landseer Newfound looks protectively at the child, almost assuming the role of foster parent, while a spaniel sits up and begs for attention." William Secord.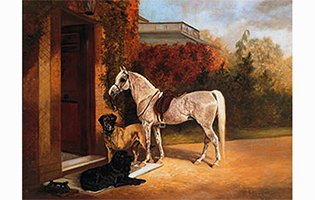 Arthur Batt  Horse, Mastiff and Newfoundland, 1881  Oil on canvas, 27 x 36 ins. Collection AKC Museum, gift of Marie A. Moore
"The tendency to memorialize favorite horses and dogs on canvas flourished in the 19th century, particularly in England. This painting shows a gray horse under saddle with a Mastiff and Newfoundland posed outside a country house. A painting of this type not only documented the owner's most prized possessions but also his station in life." William Secord, A Breed Apart -  2001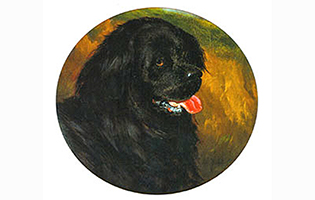 George Earl, Cato c. 1870 Oil on Canvas 14 x 15 1/2 ins. Collection AKC Museum, gift of Frank T. Sabella 
"This head study of Cato was part of George Earl's series of oval and circular works entitled "Champion Dogs of England" dating from around 1870." William Secord, A Breed Apart -  2001.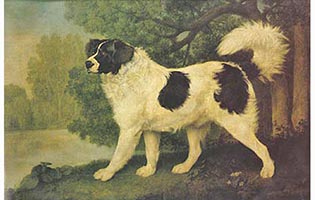 George Stubbs: Portrait of a Newfoundland dog,
the property of H.R.H., the Duke of York.
Painted 1803, auctioned at Sotheby's London: November 24, 1999 (3.6 million dollars US)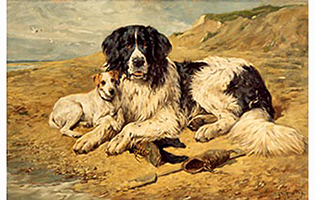 John Emms (1843-1912): Dogs Watching Bathers

"Painted in 1900, Ems painted animals with a direct style and a limited palette, his style revealed their personality and vitality" dogworld.uk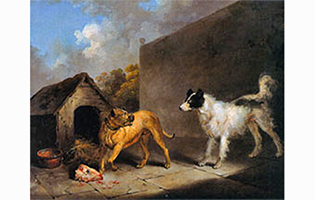 George Charles Morland Cropped Mastiff and a Newfoundland, 1792  Oil on canvas, 16 x 22 ins. Collection AKC Museum, gift of Marie A. Moore 
"Although he was known for his charming rustic scenes and his love of animals, Morland lived a somewhat wild life, regularly attending cock fights and bullbaiting exhibitions. The Mastifftype dog with cropped ears on the left was probably kept for bull- and animal-baiting. The dog on the right is probably an ancestor of our present-day Landseer Newfoundland, named after Sir Edwin Landseer" 
William Secord,  A Breed Apart -  2001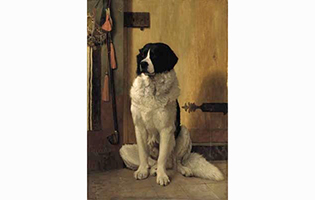 Jean-Léon Gérôme's L'Attente:
Etude de Chien de Terra-Nuova
This work depicts a Newfoundland,
and was estimated at $120,000-$180,000,
sold for $204,000 at Christies in June 2007.
An early example of Gérôme's dog portraits, it is the largest known work by the artist in this genre, and may be a portrait of the artist's dog.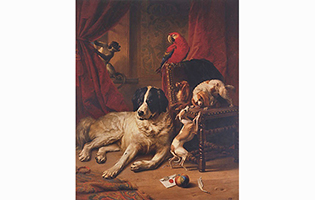 Eugéne-Joseph Verboeckhoven (1798-1881): The favourite animals of Leopold I - 1845 Oil on canvas 71 1/4" x 59" Bellvue Museum, Brussels.
"Verboeckhoven's composition is almost a mirror image of the Landseer work "Hector, Nero, and Dash with the Parrot, Lory". The chair is positioned on the right and the focus of the attention on the large black- and-white Newfoundland Dog. Like the animals in the Landseer painting, those in Verboeckhoven's work appear in the best possible light, cleaned up for their portrait, no doubt to please their royal patrons. Such portraits were very much admired and in the mainstream of art at the time." Bowron, Rebbert, Rsenblum & Secord Best In Show 2006.