Re-Enactment of The Lewis & Clark Expedition's Portage of the Great Falls in Montana
by Ruth S. Burns, adapted from Newf Tide- Winter 1985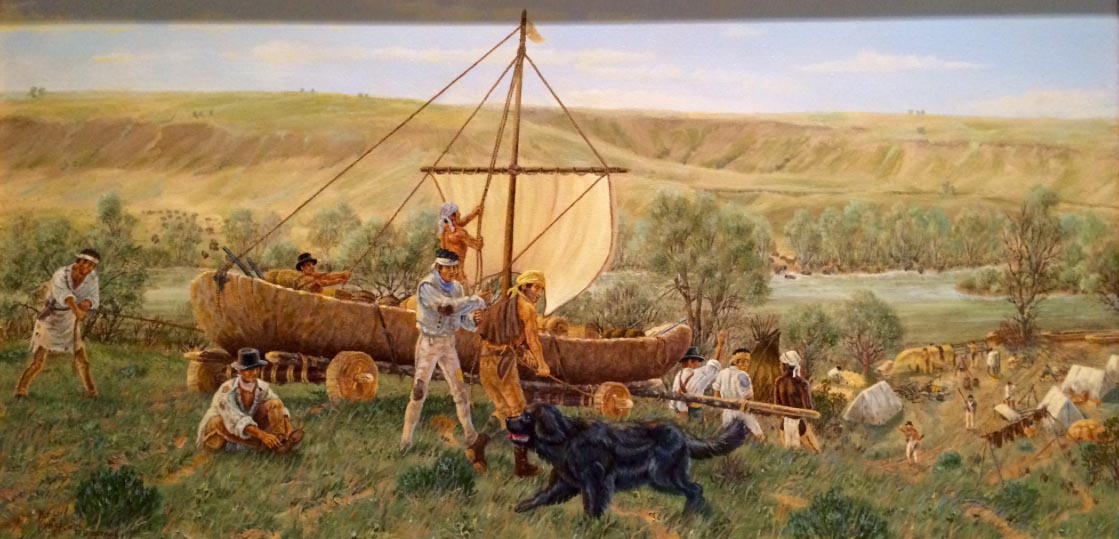 In June of 1984 in celebration of the Lewis and Clark great expedition of the Louisiana Territory, and the Great Falls, Montana, Centennial, the Lewis and Clark Portage Re-enactment Corps re-experienced the 18-mile portage of the Great Falls.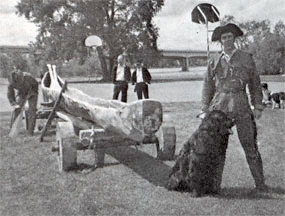 Much researched detail to the authenticity of all aspects of the feat as it was done by the explorers back in 1805 was facilitated. There were 32 members of the original expedition and all of these roles were portrayed by local people wanting to experience this event. The role of Capt. Lewis's Newfoundland dog "Seaman" was portrayed by Ch. Captain Benjamin's Portage, a Newfoundland dog owned by Ruth and Bob Burns, Portage Kennel, Great Falls, Montana. 
 
"Seaman" was held in high esteem by the men of the original Lewis and Clark Expedition and saved their lives more than once as recorded in the Journals of Lewis and Clark. He was chosen by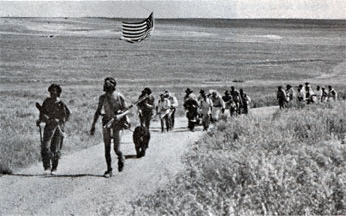 Capt. Lewis for his general qualities as a Newfoundland dog and proved more than useful by saving their lives when a wild buffalo charged into camp. He chased it away before anyone was harmed 'and also kept away the very dangerous grizzly bears which were numerous in this area at that time. He also fetched in wild game they shot for food even if it was large and in the water. No matter how hungry the men became, they shared their food with him. And even though they did on occasion eat dog meat, they never considered "Seaman" as food.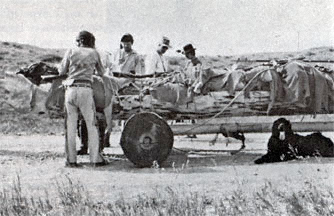 The canoes, carts to pull them and clothes were all made by the corps members. The food they ate was the same as the food eaten by the original expedition members back in 1805. 

A letter signed by President Ronald Reagan, commanding the Captains to proceed, and a proclamation by the Governor of Montana (Hon. Ted Schwinden) officially started them on their way.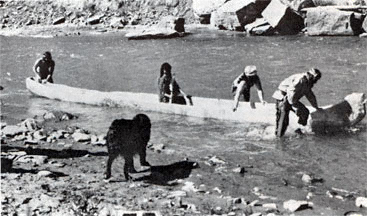 It was a difficult feat even now pulling the canoes and all the equipment up the hills and 18 miles over the prairie from the beginning of the portage at Belt Creek to the end at White Bear Island. It was hot and windy and the load was heavy. "Ben", who lives in the area of the Portage in Great Falls, Montana, took all this in his stride and enjoyed the companionship of the men walking, eating, sleeping and occasionally swimming with them. He also took part in the various ceremonies related to the expedition.

Did you find this article helpful? Share with your friends