by Janice Kiseskey from Newf Tide Fall 1984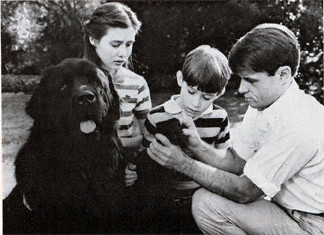 Few people in our fancy have had the opportunity to involve our animals with the film industry, let alone a project as dynamic as "Robert Kennedy and His Times," a seven-hour miniseries to be aired in 3 parts by CBS*. Actual production began December 5, 1983, but planning started long before then. I was contacted during the summer by animal trainers looking for a large, friendly Newf to portray "Brumus," companion and friend to Robert Kennedy and his family. 

I chose to take CH. Shady Oaks Buster** to an audition arranged at the Burbank Studios with director Marvin Chomsky. 

In this scene, Bobby's children (played by Shannon Douherty, left and Chris Herbert) are playing with Brumus (Buster) when he gets a sticker in his paw. They call for their father (Brad davies), very concerned, and he removes it. This photo was published in the May 26, 1984 TV Guide.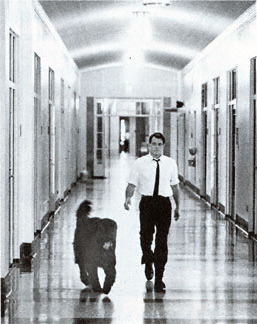 He asked to work the dog, putting him through some basic obedience. Then Buster turned on, charming everyone with his antics, including director Chomsky, who was the recipient of a giant Newfy 'slurp' when Buster jumped up and leaned on his chest to say "Hi!" 

Buster and Bobby (Brad Davies) walking down the Senate halls.

"Buster" began working on the ·project in December with trainer Dennis Grisco and continued through the end of filming in April, 1984. During this time Buster traveled on location to Hyannis Port and Boston, Massachusetts, Washington, D.C., and many spots in Southern California, where the task of filming a 22 year span in Robert Kennedy's life transpired. He made many a friend of cast and crew members while on the various sets. In between takes his time might be spent playing on the beaches of Hyannis Port with his new-found friends, or frolicking in the snow. While in Washington, D.C., Buster was taken on a tour of the city sights by assistant trainer, Bill Grisco. And he even found time to rest on occasion.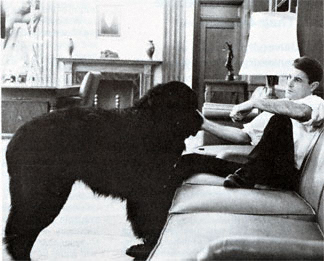 "Robert Kennedy and His Times" begins with a young Bobby meeting his future wife Ethel at age 21. This meeting takes place during John F. Kennedy's congressional campaign in 1946, thus setting the scene for Bobby's involvement and rise in the political arena.

Through the years of political ups and downs, the love that exists between Bobby and Ethel, the warmth of the family life they create is never forgotten. The story ends with his untimely death in 1968, when he is gunned down by an assassin's bullet. 

Brad Davis and Veronica Cartwright star in this miniseries, surrounded by an award-winning cast and crew. The story is based on the biography by Arthur Schlesinger, Jr. It has been 5 years in the making, written by Walon Green. Produced by Chris/Rose Productions in association with Columbia Pictures Television, "Robert Kennedy and His Times" may prove to be the television event of the season. 

Authors Note: Though animal trainers make their living with animals, I would require them to allow me the choice of traveling with and caring for my Newf should this opportunity arise again. After all, no one can care for my dog the way I do. 

* Projected airing, late '84, early '85 

** CH. Shady Oaks Buster, owned by Janice Kiseskey - Ebon-Tide Newfoundlands, co-owned by Pete & Sue Kiseskey - Shady Oaks Newfoundlands
Did you find this article helpful? Share with your friends