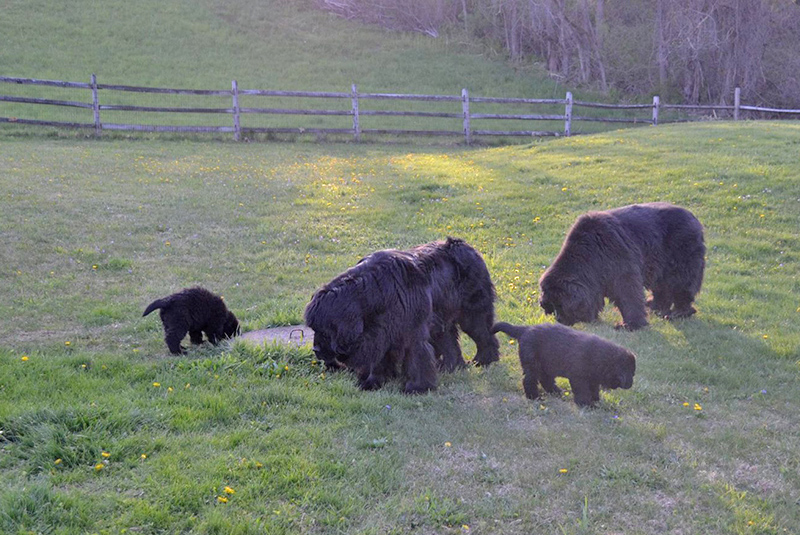 The Newfoundland Club of America Registry of Merit (ROM) system was designed to honor those Newfoundlands who have proven themselves to be exceptional producers of Champions and Working dogs.
What is a ROM? 

A ROM is a Newfoundland that has been admitted to the Newfoundland Club of America's Register of Merit for producing multiple ROMs, Champions, and performance (suffix) titled offspring.

A sire requires 12 points to earn this recognition, and six points are required for a dam.  A dog must have sired a minimum of 10 Champion and/or ROM progeny, plus two additional titles. These titles can be additional ROMs or Champions, or any performance title. A bitch must have a produced a minimum of five ROMs and/or Champions, plus one additional title – a ROM, a Champion, or any performance title.

An individual offspring can contribute a maximum of three points towards each parent's ROM point total – by obtaining an AKC Championship, an NCA ROM, and any AKC or NCA performance title. However, the ROM formula allows only one performance title to be counted for every five Champions plus ROMs. Additionally, if an individual Newf has earned multiple performance titles, only the first performance title is eligible to contribute to each parent's ROM point total.

To calculate the number of ROM points a Newf has earned, one must first find out how many of the performance titles are eligible to be added to the ROM point total. To calculate this number, add the number of Champion offspring to the number of ROM offspring. Divide that total by 5, and drop the remainder. Add 1 to that result. This is the number of performance titles that are eligible to be counted toward ROM points. For example, a Newf has sired 79 Champions, five ROMs, and 25 performance titlists. 79 Champions plus 5 ROMs equals 84. Divide 84 by 5 and drop the remainder. The result is 16. Adding 1 to that total equals 17. Therefore, only 17 of the 25 performance-titled offspring are counted. Adding 17 to 84 gives this Newf a total of 101 ROM points.

There is no minimum requirement for working titlists. ROM status may be achieved exclusively from ROM and Champion titled offspring.

ROM points that are earned by a dog or a bitch are cumulative, and the time frame in which the titles are earned and the order in which they were earned is immaterial. As offspring continue to earn titles, ROM points will be added to the official ROM point totals for each parent within the constraints of the 5:1 limitation.

New ROMs are honored in Newf Tide's second quarter edition each year.

The NCA Register of Merit system was initially approved April 3, 1986. The criteria were enacted so that dogs would become ROMs retroactively to the beginning of Newfoundland record-keeping, and a total of 100 ROMs were honored at that time. A complete explanation of the ROM system, a listing of the titled offspring for each of the initial 100 ROMs as well as the overall standings for ROM dogs and bitches appeared in the Winter 1986 issue of Newf Tide (Volume 17, Number 4) – Flip (Bowser) Young
Filter results by year
| Dog Registered Name | Sex | Date of Birth | ROM Points | Dog ID | Award Date |
| --- | --- | --- | --- | --- | --- |