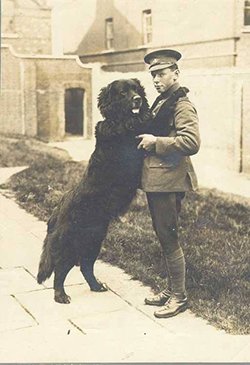 Sable Chief was the famous mascot of the 2nd Battalion of the Newfoundland Regiment in World War I. As Pickett reports in his book, "This magnificent Newfoundland Dog, who must have weighed 150 pounds or more, was presented through the efforts of Sir Edgar Bowring to the 2nd Battalion in April, 1917, by a Canadian officer who was serving in England. Sable's immense size and dignified bearing attracted the attention of every onlooker as he marched along with the band at the head of the Battalion .... Not only did he keep in step when marching, but it is said that he would invariably stand up with the opening bars of the National Anthem and remain at attention until its conclusion." 

Sable Chief was, unfortunately, killed by a careless truck driver. But he was so beloved and so important to the Battalion that his body was turned over to a taxidermist, and his lifelike remains were put on display in the Newfoundland Naval and Military Museum in St. John's where it has been the centerpiece of the World War I exhibit. Over time, the pelt deteriorated, and a fund was started to restore Sable Chief so that he can continue to be presented in the museum.The Newfoundland Club of America has recently donated $1,000 to that project. This money, along with the dollars raised from several individuals and many Canadian Newfoundland clubs, is sufficient to ensure Sable Chief's continued place in history. - This information on Sable Chief is from the book, Heroic Companion, A Brief History of the Newfoundland Dog
 by Patrick Pickett.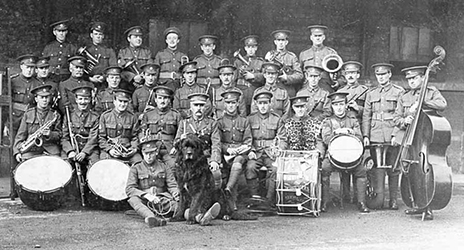 In the Nick of Time: Restoring Sable Chief 
by Judy Ferguson, reprinted from Newf Tide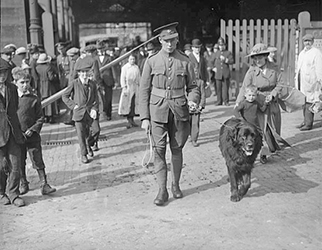 Sable Chief has been restored and is now back on display. 

Until 1949, Newfoundland was not a part of Canada, but a British Colony. When the first World War broke out, Newfoundland's troops fought with the English. During this conflict, the Second Battalion of the Royal Newfoundland Regiment, based in London, was presented with a mascot-a Newfoundland dog named Sable Chief. Sable marched with the regimental band and visited wounded troops, and by all accounts, was a great favorite and morale booster. When Sable was killed in 1917, he was first sent to a taxidermist and then shipped to the Newfoundland Museum where he has been ever since. He was on display for many years. I can remember when I was eight or nine years old being taken to the museum by my mother, and in my mind's eye, I can still see him peeking out from behind a mannequin displaying a WWI uniform.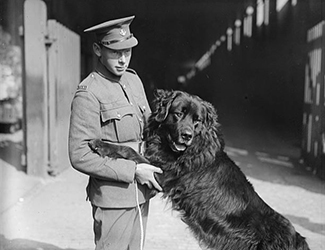 However, time had taken its toll. In those days, it was not realized how important atmospheric conditions, air quality, humidity and light, were, and what damage it could cause, unlike today when such care is taken to ensure these things are so carefully controlled. As a result, Sable's pelt started to deteriorate, especially around the eye and facial area. Several years ago, he was removed from display and placed in storage to await rescue. 

When I heard about this, the thought did occur to me to start a fund raiser, but I have to admit it took me about two years to act on that thought. Instead of going to the general public, I decided to ask those people whose main passion in life is the Newfoundland dog. I contacted the Newfoundland dog clubs that I knew of or knew members of. The Newfoundland Dog Club of Canada graciously offered to back the project. The Newfoundland Club of America responded with a wonderful gift of $1,000. Then I contacted the clubs in England and Scotland. Kathleen Hogg of the Newfoundland Club of Scotland raised over $200 and sent it on. Lastly, a friend from Nova Scotia, Gloria Armstrong, asked if she could put the details about Sable Chief's need for restoration on her website, and, as a result, many individuals made contributions as well.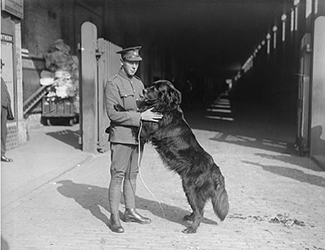 When I first spoke to Bernard Ransom, the curator of the Military Division of the Newfoundland Museum (now called the ROOMS Corp.), it was felt that Sable would have to be sent off the Island for such extensive work. The museum wanted his posture changed from prone to sitting or standing, plus where age had caused parts of Sable's coat to bronze would have to be seen to as well. 

When a taxidermist named Andrew Barron, who had done work for the museum in the past, was called in to do an evaluation of the dog, he advised the staff that only work which was necessary to bring him back to display condition should be done and no more. Sable, he concluded, was very fragile, and he suggested that Sable then be placed in a protective glass case for protection against further deterioration.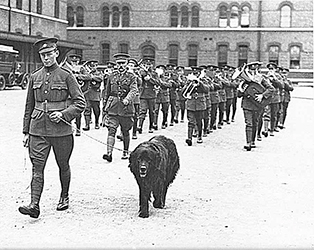 The museum decided to follow Mr. Barron's advice. Mr. Barron offered to do the work on Sable himself. As you can see by the photograph, he did a remarkable job. Sable's protective case has been ordered and will be ready shortly. 
On June 28, 2006, I proudly presented a cheque for $3,200 (Canadian) to the Museum's head curator, Penny Houldon, and Military curator, Bernard Ransom. Sable was to be given another honor on that day. The Newfoundland Club of America had bestowed a certificate which named Sable Chief as a heroic Newfoundland for his service in World War I. I told the staff of this only when I was ready to present it. Penny Houldon accepted both the award and the funds with gratitude, and wanted me to thank everyone who had contributed to the fund, and the NCA for the honor of the special award.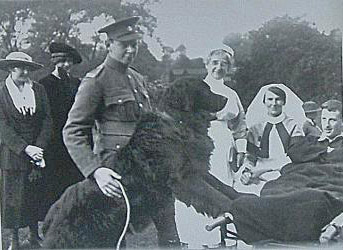 On July 1, Sable Chief took an honored place as part of a display commemorating the Battle of Beamount Hamel. 
Because of Sable Chief's fragile condition, every precaution will be taken to ensure he will be with us for a long time to come. It has been decided that he will no longer be on permanent display, but rotated on a regular basis.
Did you find this article helpful? Share with your friends