Working Achievement Award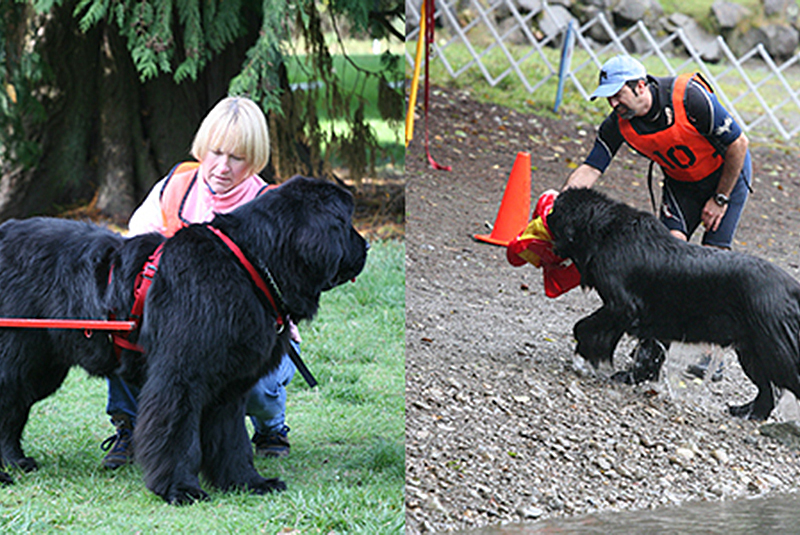 The NCA has adopted a Working Achievement Award to honor those Newfoundland/handler teams that excel in dog sports highlighting the intelligence and versatility of our breed, recognizing the unique bond between a handler and their dog, and promoting participation at a high level of excellence in performance events.
The core requirements for the Working Achievement Award are:
AKC Companion Dog Excellent (CDX)
NCA Draft Dog (DD) 
NCA Water Rescue Dog (WRD)
In addition, the Newfoundland must have fulfilled three separate requirements encompassing the following working categories and/or levels below. The Newfoundland may meet these criteria by excelling in one particular working area (e.g. RE, RAE, RM), three different working areas (e.g. UD, TD, WRDX) or a combination of working areas (e.g. RE, DD3, DDX). Please note that only three requalifications or combination of requalifications in draft or water can fulfill a requirement (i.e. WRD3 will fulfill one requirement, but WRD6 will not fulfill two requirements). Virtual titles earned will not be accepted toward the Working Achievement Award.
AKC Obedience

AKC Agility

AKC Rally

AKC Tracking

AKC Scent Work

NCA Water

NCA Draft

UD

OA or OAP
OAJ or OJP

RE

TD

SWA or SHDA

WRDX

TDD

UDX

AX or AXP
AXJ or AJP

RAE

TDU

SWE or SHDE

three requalifications in WRD or WRDX or any combination (e.g. WRD3, WRDX3, WRD2 + WRDX1, etc.)

DDX

OTCH

MX or MXP
MXJ or MJP

RM

TDX

SWM or SHDM

TDDX

OM or OGM

 MACH or PACH

 

RACH

VST or CT

 

 

three requalifications in DD, TDD, DDX or TDDX or any combination (e.g. DD3, TDD2 +DDX, etc.)
To apply for the Working Achievement Award send an email to:
workingachievement@ncadogs.org
include:
date/title earned

copy of dog's AKC Registration

copy of Title Certificates
Filter results by year
| Dog Registered Name | Sex | Date of Birth | ROM Points | Dog ID | Award Date |
| --- | --- | --- | --- | --- | --- |